Round Led Dj Lights Dmx-512 Piggy Back Par Lights Rgb 86 Led Stage Lighting Show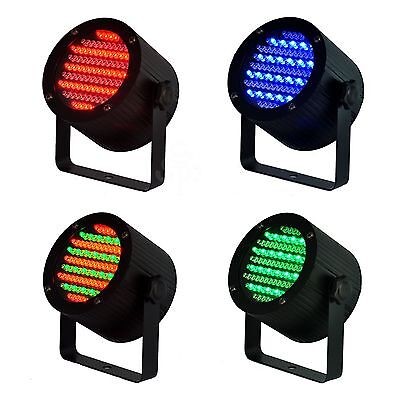 86 RGB LED Stage Light PAR DMX-512 Disco Lighting Laser Projector Party Show
Description
This high power RGB stage light is easy to setup and use.

Perfect for party, club, stage, bands, etc.








Features:


Professional high power 4 Channel DMX-512 LED stage light.

Built-in automated programs and sound activated programs.

Individual control of RED , GREEN and BLUE LEDs.

Static color and RGB color mixing with or without DMX controller.

Modes: Color gradual change / color jump change / strobe / running speed adjustment.

Low power consumption.

Great for club, DJ show, home party, ballroom, bands, etc.
Specifications:

Housing : Aluminum Steel
Channel: 4
4CH Control Mode
LED diameter: 5mm / 0.2in
Light source: 86pcs ultra bright LEDs (Red: 44pcs, Green: 21pcs, Blue: 21pcs)
Input power: AC 110-220V, 50-60Hz
Power consumption: 10W
Control mode: DMX512, Sound, Auto, Master/slave
Item size: 15 * 12cm * 11
Item weight: 890g
Protection rating: IP20
Working environment:Indoor -20~40℃
Packing Size:L170×W130×H125 mm
XPT-XL35




Package include:
1× LED Stage Light
1× US Plug (3 feet)
1× User Manual

User Manual (will come with the light)

Manual Mode(fixed color,w/o color changing w/o chasing)
1.Link up more than 2 units or more and set Master and Slave
Master:DIP switch 9 and 5 at ON Slave:DIP switch 10 at ON
To set color by setting dip switches of Master unit:
DIP 1 ON:Red LED at medium brightness;
DIP 2 ON:Red LED at high brightness;
DIP 3 ON:Green LED at medium brightness;
DIP 4 ON:Green LED at high brightness;
DIP 5 ON:Blue LED at medium brightness;
DIP 6 ON:Blue LED at high brightness;
※The above settings a cannot work with DMX-512 controller.
※When two or more LEDs are in serial,settings applies to Master only.DO NOT make any settings on Slaves.Otherwise,there will be unexpected color changing.
※DO NOT set DIP switch 7 at ON.
2.Sound-active Mode
Master:DIP switch 8 and 5 at ON Slave:DIP switch 10 at ON
3.Built-in Chases Mode
1.To set Master and Slave
Master:DIP switch 9 and 5 at ON Slave:DIP switch 10 at ON
2.To set chase speed by setting DIP switch 1-6 of the Master.
4.DMX-512Mode
1.To set DIP switch 10 of all units at ON.
2.To set address code by setting DIP switch 1-9 of each unit.
3.The total value of the DIP switches is the address code.
4.Each unit occupies 5 DMX channels,functions as below:
DMX Channel Function
Channel 10-255 Strobe
Channel 20 Close 1-255 Brightness Adjust
Channel 30-255(R) Brightness of red color
Channel 40-255(G) Brightness of green color
Channel 50-255(B) Brightness of blue color
As each units occupies 5 DMX channels,the address code of the first unit should be set as 0;and the second as 5;third,10;forth,15……
3.Cleaning
Due to fog residue,smoke,and dust cleaning the internal and external optical lenses must be carried out periodically to optimize light output.
1.Use normal glass cleaner and a soft cloth to wipe down the outside casing.
2.Clean the external optics with glass cleaner and a soft cloth every 20 days.
3.Always be sure to dry all parts completely before plugging the unit back in.
Cleaning frequency depends on the environment in which the fixture operates(i.e.smoke,fog residue,dust,dew).
Trouble Shooting
Listed below are few common problems the user may encounter,with solutions.
Unit not responding to DMX:
1.Check that the DMX cables are connected properly and are wired correctly(pin 3 is hot;on some other DMX devices pin 2 may be 'hot').Also,check that all cables are connected to the right connectors;If does matter which way the inputs and outputs are connected.
Unit does not respond to sound:
1.Quiet or high pitches sounds will not activate the unit.If problems are not resolved,contact your dealer for service
Payment
We accept PayPal only.
We will only ship item to your PayPal address.
Please leave note in PayPal when making the payment if you have any special request
Delivery details
All items will be shipped within 1 business days after receiving payment .
United States: 7-12 business days via ePacket delivery.
Other Countries: 12-30 business days.
It may delay due to the strict customs and the bad weather (rain, flood, snow)
Terms of sale
Please contact us via eBay Message if you have NOT received item after 30 days, we will check it with post office, and then resend or refund any missing items.
If you receive a wrong item or a dead-on-arrival (DOA) item, pls contact us asap for a resend or refund.
About us
If you have any question, pls don't hesitate to email us: Our working time is 9:00-18:00 [Beijing Time] (Except Weekends). During that period of tme, we will reply to you as quickly as possible.
We greatly appreciate your Positive Feedback. Pls do NOT leave negative feedback without asking for help.
Our aim is to provide Top Level Customer Service, so we will try our best to solve any problems.
Contact us
Emails received on weekends would be responsed on Monday.
Engineered for professional eBay sellers!